Videos featuring the group have been removed by YouTube, with advertising prevented on others.
Voice of Wales said it gave a voice to people who were not represented by the mainstream media.
The channel began broadcasting on YouTube in July last year.
Several politicians and parties have slammed Voice of Wales' activities, following an investigation by BBC Wales' Newyddion programme.
Fronted by Dan Morgan and Stan Robinson, the Voice of Wales channel now has more than 5,000 subscribers and has registered more than 350,000 views.
Guests on the channel have included members of the Proud Boys group, a far-right organisation which is active in the United States and Canada.
They have also appeared in discussions with controversial characters such as Katie Hopkins and Tommy Robinson – both of whom have been permanently banned by Twitter for breaching hateful conduct guidelines.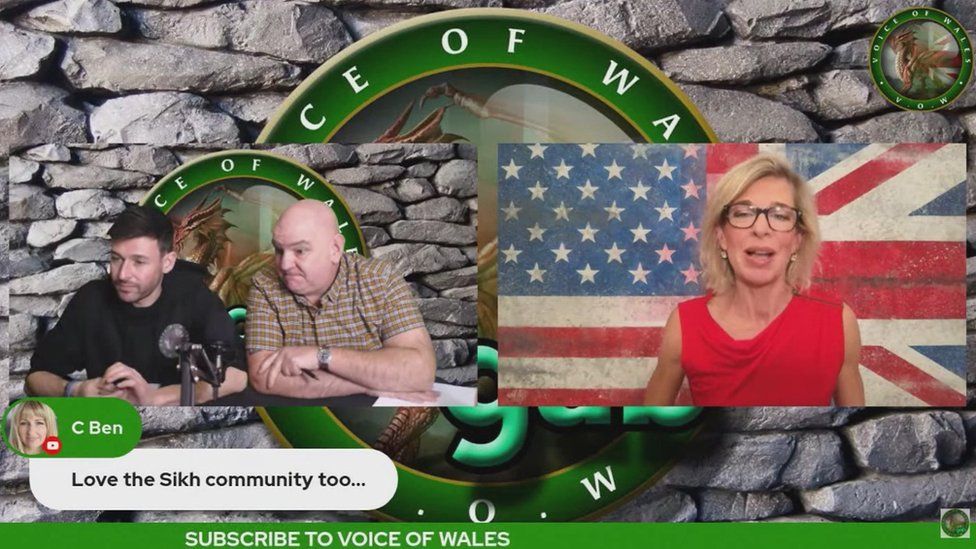 Concerns have also been raised that prominent Welsh politicians have participated in discussions on the channel – including UKIP's only Member of the Senedd Neil Hamilton and former Conservative election candidate Felix Aubel.
Voice of Wales has also been present at controversial protests – broadcasting apparently favourable coverage from outside Swansea City's Liberty Stadium as activists aimed to disrupt players taking a knee in solidarity with the Black Lives Matter movement, as well as during clashes between police and demonstrators in Pembrokeshire opposing the housing of asylum seekers at a former military training base.
Concern has also been expressed about the language used by Mr Morgan and Mr Robinson, who are both members of UKIP.
In a discussion with Ms Hopkins, Mr Robinson said: "If I wanted to imbibe all things India I would get on a jet and go to India. I don't want it on my doorstep."
After being told by Ms Hopkins: "I believe the Indian Hindu community is the best of us in the sense that they work harder than us and their children outperform ours. They are the best of British.
"I think that there's communities who've integrated that have made us better and I think what we're seeing now is no integration whatsoever."
Mr Robinson replied: "Actually that was a bad analogy. India is British. Pakistan actually…" before agreeing with Ms Hopkins that the "Pakistani Muslim mob is problematic".
In another video, on seeing posters of black individuals in the window of the Arts Council of Wales building during a live broadcast, Mr Morgan said: "What is this building? You're not going to believe this.
"It's actually the Arts Council of Wales… Because we all know that's what Wales is going to become… African Arts council of Wales.
"Did it say that? No. But it should have."
A county councillor also said he was subjected to harassment by Voice of Wales after he opposed its supporters' presence at protests against housing asylum seekers at a former military training base in Pembrokeshire.
This harassment included an allegation, which he said was totally false, that he shared a sexual video of an underage schoolgirl.
Despite freedom of speech being one of the cornerstones of democracy, the three main political parties in Wales have voiced concern about the language and ideas shared by Voice of Wales.
'They try and create splits in our society'
Labour MP and Shadow Secretary of State for Wales, Nia Griffith, said the channel was "very dangerous" and provoked "hate and racism".
"They try and create splits in our society. We must take it seriously and see if there's a way of lessening their influence."
'Completely unacceptable'
The Welsh Conservatives also rejected Voice of Wales' activities, saying: "Robust political debate, including disagreement, is one thing, but the kind of language used on the YouTube channel by the members and supporters of this organisation is completely unacceptable to – thankfully – the vast majority of Britons and those of other nationalities living in a modern, dynamic, and diverse United Kingdom.
"People of all parties will reject the foul ideas and words used by members of this organisation, and anyone else who bases their prejudices and political ideology on where a person comes from, their nationality, ethnicity, or belief."
Having described Voice of Wales as an "excellent truth-seeking news channel" in a Twitter post, Mr Aubel said he did not necessarily agree with all content they broadcasted, but said the men had a right to freedom of speech.
'Baseless smears'
When asked to respond about their members' involvement with Voice of Wales, UKIP said: "This looks to us like an attempt by the BBC to shut down competition in Wales by using baseless smears that we have all become accustomed to over the years such as 'extremist' to discredit other outlets.
"UKIP unambiguously stands with the majority of people in Wales who understand that mob-like movements such as Black Lives Matter serve only to cause further division and stoke racial tensions in our society.
"We see nothing wrong with fans expressing their disgust at their sports team 'taking the knee' in support of a violent group."
But Plaid Cymru leader Adam Price rejected their claims: "The mask is slipping.
"With UKIP and anyone else who are enabling this group. Anyone who is helping them and co-operating with them, we must ask them too – what are your politics but that of the extreme right wing?"
Voice of Wales said: "[We] have hosted politicians from across the political spectrum including the former advisor to the Mayor of London and Respect Party candidate, Lee Jasper (whose Twitter account is currently suspended for violation) and Katie Hopkins.
"We also operate an open invitation to BLM, antifa, SWP [Socialist Workers Party], councillors, AMs and ministers we have named on our programmes."
Denying allegations of racism, it said free speech included "the right to offend and, of course, to be offended".
After being approached to respond to concerns about Voice of Wales by Newyddion, YouTube removed three videos completely and removed the ability to show adverts on a further six.
A spokesman said: "YouTube's community guidelines prohibits hate speech and we remove flagged videos and comments that violate these policies."