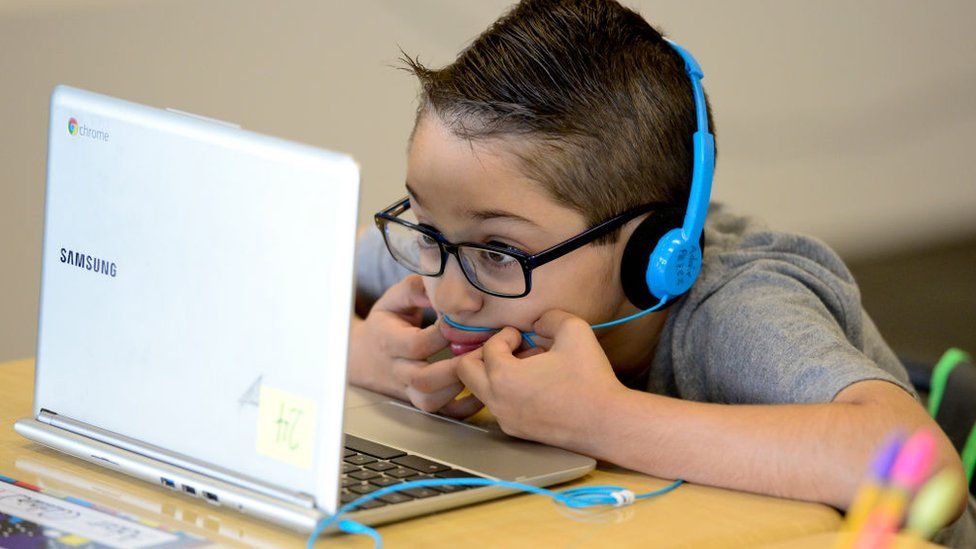 Google-powered Chromebook laptops have overtaken Apple's Macs in popularity for the first time, analysts suggest.
Consultancy IDC tracked the use of operating systems, such as Microsoft Windows or Apple's MacOS.
It found Chrome OS, used by the Google-powered laptops, took second place from MacOS for the first time.
The system – widely used in cheap laptops handed out to school pupils for remote learning – now has a 10.8% market share, IDC said.
Windows remains the most popular operating system by far, with 80.5% of the market.
The remaining 1.2% is made up of niche set-ups such as Linux distributions, often used by enthusiasts.
IDC's numbers included desktop and laptop computers, but not tablets or smartphones.
Chromebooks were originally launched in 2011. Chrome OS is a web-based operating system that essentially connects to online apps, rather than running them on powerful local hardware.
Chromebooks are often cheaper than other laptop options, and are made by a range of different companies.
The cheap machines have gradually increased in popularity since launch, but 2020 saw a sudden explosion.
"Chromebooks have really been the growth area as Covid-19 has locked down schools and education," explained Gartner analyst Ranjit Atwal.
"This is really the time that Chromebook has come into its own. Not only is it a 2020 phenomenon, it seems to be continuing into 2021".
He said the platform's expected strong showing in the computer mix had been brought forward by the pandemic.
Circumstances meant that the status quo vanished, and suddenly the need for cheap mass-produced machines exploded.
Many of the purchases were made by big buyers like schools and even national educational bodies – but parents also played a role.
"There's no doubt there's a lot of consumers who had to go out and buy cheaper notebooks for younger children – so they didn't want to spend a huge amount of money," Mr Atwal said.
"It's the right type of device, at the right time, for the right purpose."